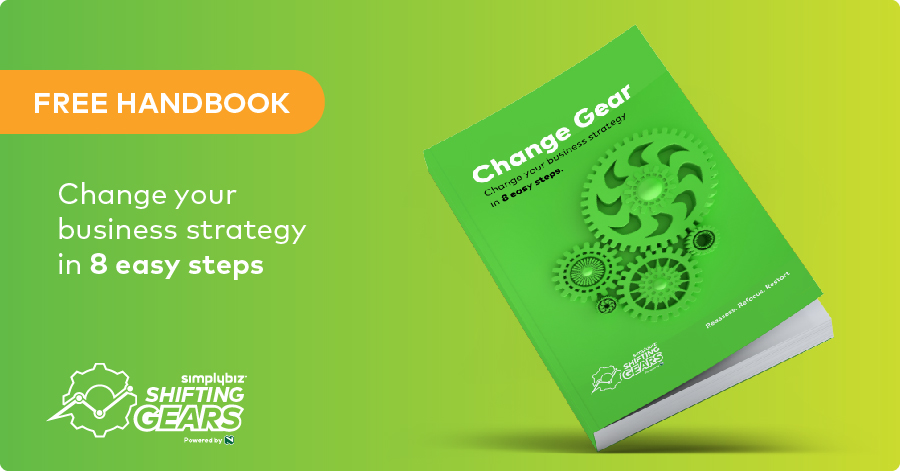 New markets, new products, expansion. Change is the only constant, so what are you going to do about it?
If you are significantly adapting products and services or trying to adjust your business model to meet new demands, this is the gear for you. Innovation, flexibility and agility are the themes of Change Gear. eg Our society was transformed by a pandemic and many of those changes are here to stay.
Change Gear is a structured and supported approach that will take you through the entrepreneurial mindset, visualisation and strategy to finding new markets in just 8 steps (through concerted effort each gear can be completed within two weeks).
Reasons to Change Gear
You have structured learning with real takeaways for you and your business.

Online learning and resources are a click away.

Learn at your own pace.

Assessments monitor your progress towards your business goal.

Ready-to-use templates and guides help you.

Experts lead webinars and panels.

You get access to coaching at certain milestones.

You get a revised business plan that you can present to potential investors and customers.
What this bootcamp covers:
Getting to grips with your current business reality.

SWOTA (Strengths, Weaknesses, Opportunities, Threats, Action) analysis.

What now? Exploring possibilities, future trends, and research.

New product visualisation and ideation.

Your mental health is your business wealth.

Entrepreneurial mindset and attributes – resilience and agility.

Customer service in a high-tech/low-touch world.

Basic business planning for your new idea.

Doing the numbers.

Sales and marketing.

Business structures – changes may require a different structure.
Who will benefit?
My market has changed significantly.

Technology and/or industry disruptors have affected my business.

My business needs to grow.
Are you ready to Change Gear?
Download the handbook to get started...



SimplyBiz® Chats
SimplyBiz® Chats are informal presentations and discussions which provide you with an opportunity to interact with the experts and other businesses.
Click here to view lineup for 3 - 11 August 2020
MOTIVATION

How do I stay positive and yet stay real?

JOVAN VAN STRAATEN

Business Administration & Leadership

FINANCE & FUNDING

Don't make these mistakes when asking for funding.

ALAN SHANNON

Head: Relationship Banking Sales

SALES & MARKETING

How do I do social media?

MIKE SAID

Just a Waiter Who Got Lucky!

OPERATIONS & ADMIN

How do I adapt to the new normal and still make money?

LESLEY-CAREN JOHNSON

Author of the Nedbank Ultimate Business Companion Guide

FINANCE & FUNDING

Is crowdfunding relevant when I'm changing my business?

WINTER MUTHEU

Thundafund

Aug 3, 03:00 PM
Aug 31, 03:00 PM

PEOPLE MANAGEMENT

My staff are used to the old ways – how do I get them to change?

NTSIKI NDUMELA

Team & Systems Coach